DEMAND is Google's product designed to leverage big data so musicians, their managers and promoters can figure out where they should schedule concerts, with what support acts, and at what ticket price.
When fans decide they want to attend a concert, many start looking for tickets with Google Search. So we knew we could use publicly available Google Trends data to understand what people are searching for. From there, we layered in data from YouTube and Google Play to offer a barometer for sustained interest in an artist over time. Finally, we partnered with third-party data sources, like Oak View Group, to provide historical and current pricing, all with geographic specificity in more than 200 markets. With this data, DEMAND now provides a deeper look into the live music market for more than 19,000 artists.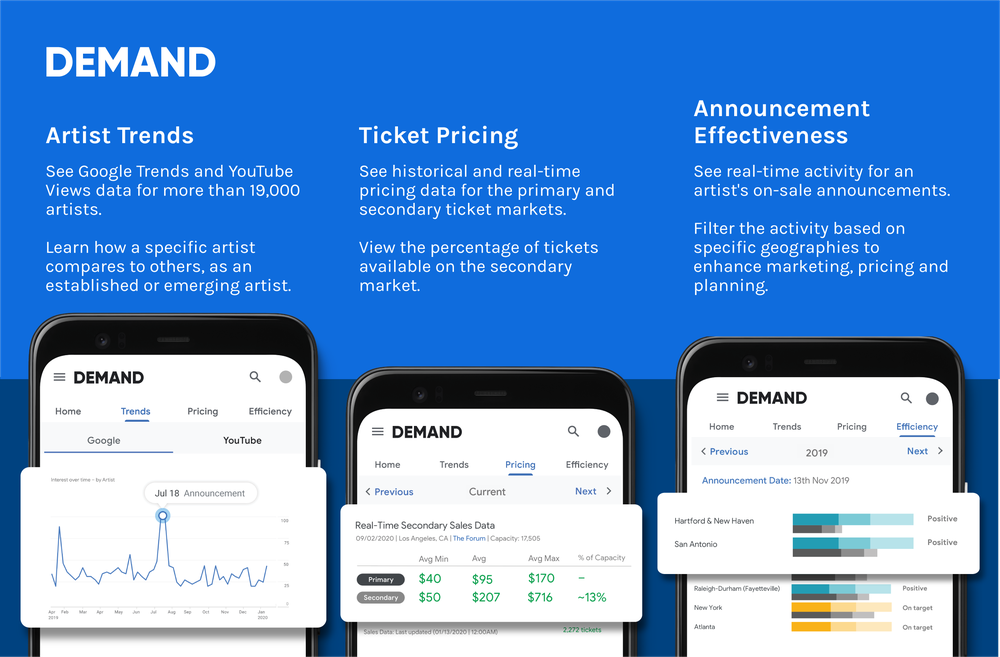 During months of testing, we found that the data was valuable for live music professionals and fans alike. In one example, when evaluating the tour schedule for a Top 40 artist, DEMAND's data revealed that the artist did not price their tickets at market rate, which was leading to higher prices for fans in the ticket resale market. In another case, DEMAND's analytics identified that an artist was choosing tour stops that didn't reflect the strongest fan interest. In both examples, artists could have made better informed decisions with DEMAND that would have allowed them to identify and reach their fans more easily.
DEMAND's insights also lets people see how consumer brands align with specific artists based on search volume from the last 30 days. This data can impact brand marketers, advertising agencies and media bookers who want to identify cross-promotion opportunities.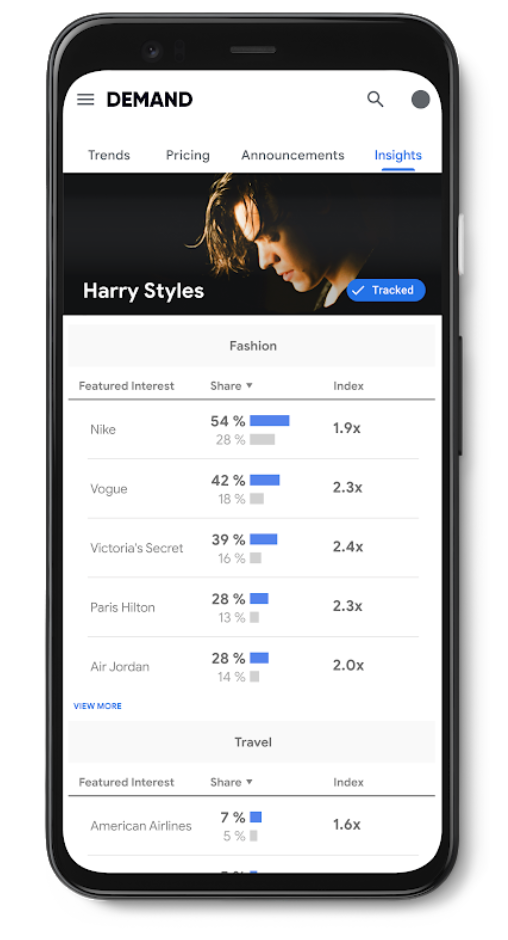 DEMAND is available for everyone in the music industry
Based on our testing and insights derived from working with partners like Nederlander Concerts, we know DEMAND's analytics can enhance the planning, pricing, marketing and sponsorship of live events. Meanwhile, music fans benefit as the most passionate fans can gain access to the artists they love in concert. Plus, venues and cities get to book the artists that locals want to see.
Additionally, we believe that DEMAND will serve as an equalizer. Even rising artists booking their own club stops and unknown venues can benefit by seeing where similar styles of artists performed well—or not so well—and at what prices. It's our hope that DEMAND's data will nurture the rise of these new artists while creating opportunities across the live music spectrum.
But the reality is that we don't know all of the ways in which this data can be helpful, so we're making DEMAND's data—currently available at no cost—to anyone in the U.S. music industry. Interested users can sign-up to get whitelisted via https://demand.area120.com.